Level-Dec EasyFit – For tiled and vinyl floors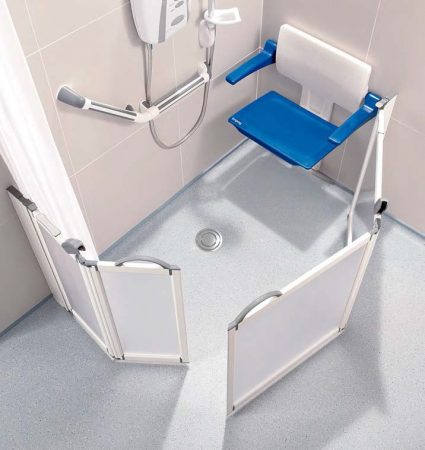 Level-Dec EasyFit wetroom floor formers are the easiest way to create the gradient for efficient drainage in a wetroom floor. They are ideal for wooden or concrete floors and are quick and easy to install, with the strength and rigidity to support up to 300kg.
Flowrate 28-38 litres per minute depending on the room layout and the size of Level-Dec
The new Level-Dec EasyFit is a revolutionary new design
No under boarding required – tested to 300kg (47 Stone)
Lighter, yet stronger – over 20% lighter than our previous
Level-Dec yet even stronger
Making installation even easier – the location of joists
within timber floors no longer presents a problem, because
the Level-Dec EasyFit includes a revolutionary drainage
feature that allows the installer to rotate the drainage point
through 360° to any position in order to avoid the joist
Easy to cut and drill – If you need to trim or cut to avoid
an obstruction it can be cut with a universal hand saw and
drilled to provide additional screw fixing holes.
All Level-Decs are 22mm thick at the outer rim to be the same depth as most commonly used flooring materials. Supplied with a UTVG01/H Vinyl Floor Gully Horizontal Outlet as standard.
Simply place the new Level-Dec EasyFit where it will be installed and if the drain aperture interferes with a joist, just rotate the centre section until it is clear and fit the trap.
For vinyl floors you simply need the Level-Dec Easyfit, but for tiled floors the recommended waterproofing is CTA Aquablok.
See how easy it is to install at: www.impeyshowers.com/leveldeceasyfit
Size: 900 x 900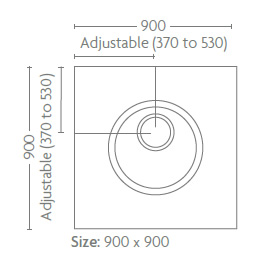 Size: 1000 x 1000
Size: 1200 x 1200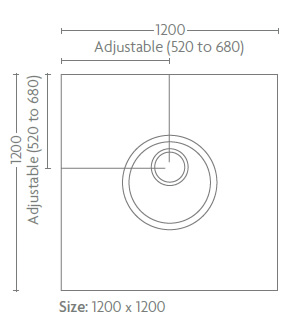 Size: 1400 x 900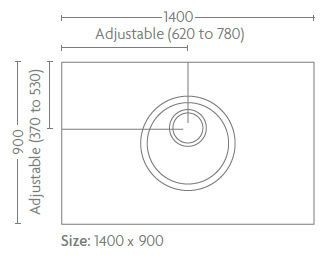 Size: 1500 x 1200
Premier Shower Deck
Our Premier Shower Deck is a robust, self supporting solution for achieving a total level access wet floor showering area with confidence. Tried and tested, the Premier Shower Deck is manufactured to high quality performance and endurance.
Premier Shower Deck is ideal for creating a level access shower area with ease. As the strongest available floor former in the UK market, accepting up to 470kg, the robust structure is manufactured using high precision molds for strength and durability. With a self supporting structure, Premier Shower Deck can be placed directly onto underfloor joists without the need for additional support.
Premier Shower Deck is the perfect solution for use in wet rooms. With built in falls, the gradients in the deck encourage the swift removal of waste water.
Designed with easy installation in mind, Premier Shower Decks can be installed into existing concrete or timber floors. Offset waste outlets have been designed to avoid joists (in most circumstances) for easier access to the pipework. The pre-cut outlet is suitable for use with gravity waste. View drainage options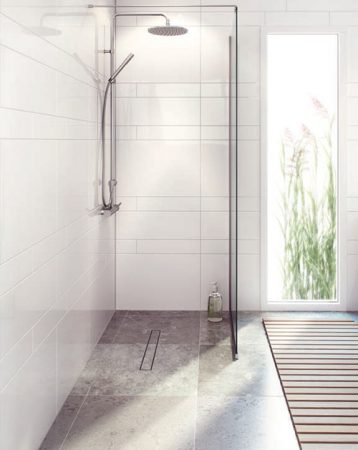 Pre-cut linear drainage options are also available. Our Premier Shower Decks are easy to install and can be waterproofed and tiled directly onto, or covered in vinyl. Although several sizes and formats are available, it can also be trimmed by up to 60mm on each edge for onsite flexibility making installation easier.
Features and benefits:
Strong and durable base made from 50% recycled material
22mm profile
Can be waterproofed and tiled directly on to or covered in vinyl
Built in gradients for water removal to the waste, minimum 2%
Ideal for total level access
Waste offset to avoid joists in most circumstances
Pre-cut waste outlet suitable for gravity waste or Phlexiflow and Hydro-Flow pumped wasted systems
Self supporting, no requirement for additional support underneath
Can be trimmed by up to 60mm on each edge
Accepts over 470kg loading
Manufactured using high strength precision metal moulds
Approved Waterproofing CTA Aquablok