Georgia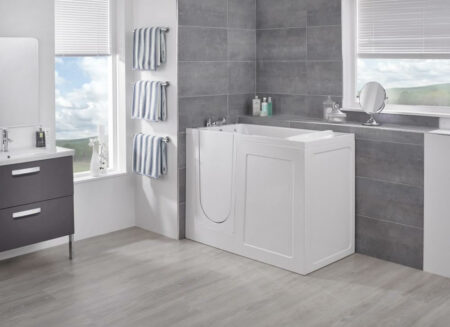 This model is all about comfort and convenience. It's got low-level entry, space to move inside and a superb seated position that means you'll never need to worry about getting yourself back upright. The lines are simple and elegant, the inward opening door is easy to operate and guaranteed to seal perfectly, so relax, unwind and let the water soothe your body.
Georgia facts and figures:
BioCote antimicrobial technology
Modern and elegant styling
Low-level access
Slip-resistant seat and base
Guaranteed lifetime leak-free seal
Inward opening side access
Left or right-hand hinged doors
Dimensions and capacity:
| | |
| --- | --- |
| Length | 1245 mm |
| Width | 660 mm |
| Height | 950 mm |
| Capacity | 246 litres |
Wide range of optional extras:
Air spa, Chromotherapy, Wireless sound system and Shower screen
Oregon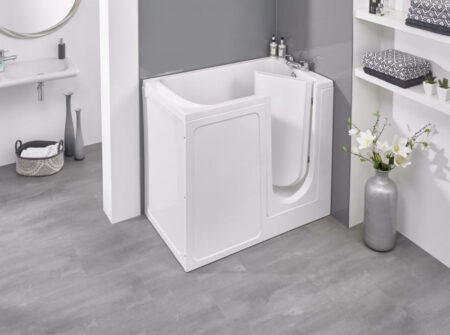 Offering a little extra depth and width, the Oregon is perfect for when you want to enjoy a good deep soak. The curved seat is angled for comfort and with a slip-resistant surface, you'll always feel safe and secure. Entering the Oregon is easy, just a small step and you're inside. The door seals with a neat internal mechanism, keeping the external lines of the bath clean and simple.
Oregon facts and figures:
BioCote antimicrobial technology
Broad and deep for extra comfort
Clean lines, modern styling
Low-level entry
Slip-resistant seat and base
Guaranteed lifetime leak-free seal
Inward opening side access
Dimensions and capacity:
| | |
| --- | --- |
| Length | 1195 mm |
| Width | 715 mm |
| Height | 1015 mm |
| Capacity | 300 litres |
Wide range of optional extras:
Air spa, Chromotherapy, Wireless sound system and Shower screen