Florida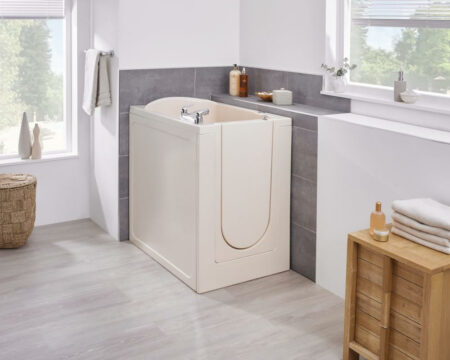 Simple and elegant, the Florida has a tiny footprint and because the door opens inwards it will fit almost anywhere, even into the en-suite you've always thought too small for anything but a shower. You get the full depth bath, a comfy seat, the essential easy access, and if you want the spa experience, that's no problem – choose the Air spa option.
Florida facts and figures:
BioCote antimicrobial technology
Elegant, unobtrusive design
Low-level access
Slip-resistant seat and base
Guaranteed lifetime leak-free seal
Push-button door lock
Inward opening door with front entry
Dimensions and capacity:
| | |
| --- | --- |
| Length | 980 mm |
| Width | 660 mm |
| Height | 930 mm |
| Capacity | 242 litres |
Wide range of optional extras:
Air spa, Chromotherapy and Wireless sound system
Vermont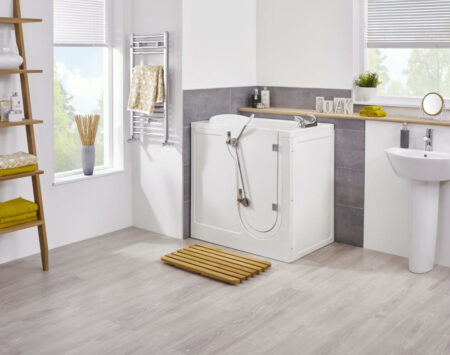 Imagine the extra space you'd have in your bathroom if your bath was only half the size of a traditional design. Now imagine that perfectly proportioned small bath giving you water twice as deep. That's the Vermont. A small jewel of a bath with side entry, an outwards opening door, easy access and the promise of a relaxing soak whenever you want. You could fit one almost anywhere.
Vermont facts and figures:
BioCote antimicrobial technology
Water-saving Design
Low-level access
Slip-resistant seat and base
Guaranteed lifetime leak-free seal
External locking with easy operation
Left or right-hand hinged doors
Dimensions and capacity:
| | |
| --- | --- |
| Length | 950 mm |
| Width | 660 mm |
| Height | 930 mm |
| Capacity | 184 litres |
Wide range of optional extras:
Air spa, Chromotherapy and Wireless sound system